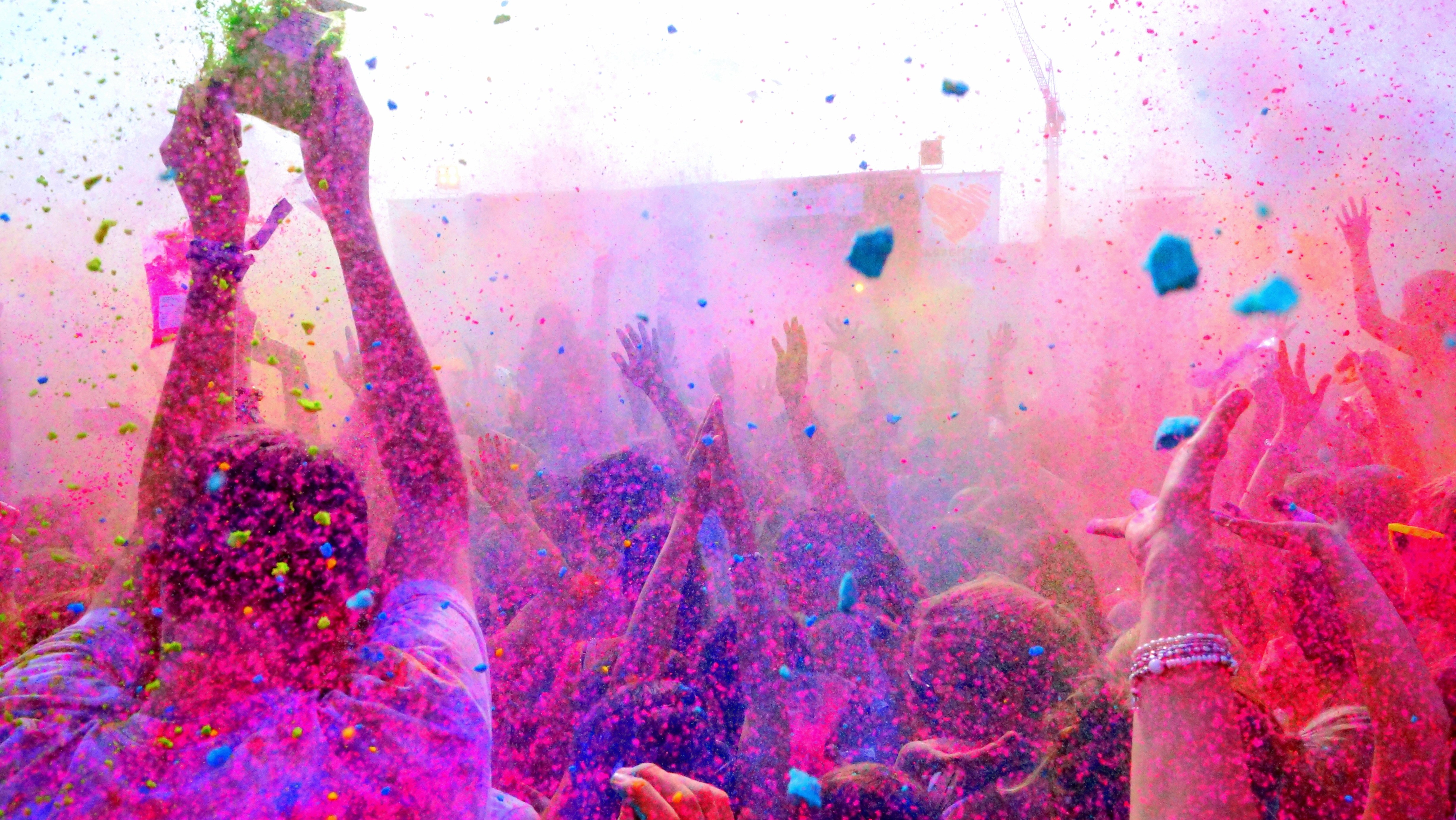 An ancient Hindu religious festival "Holi" or "Basanta Utsav" is a spring festival, also known as the festival of colors or the festival of sharing love.
On the day of Holi societal rankings such as caste, gender, age, and status are eschewed in the spirit of making merry together, and everyone is fair game to be doused with color.
Holi's traditions vary throughout the country and have their roots in Indian mythology.
Significance of Holi –
Holi is celebrated during the vernal equinox; According to the Hindu calendar, it is celebrated on the last full moon of the lunar month. The festival date varies every year as per the Hindu calendar and typically comes in March, sometimes in February as per the Gregorian calendar.
The festival signifies the victory of good over evil, the arrival of spring, end of winter; for many a festive day to meet others, to end conflicts by meeting others, play and laugh, forget and forgive, and repair broken relationships, and is also celebrated as a thanksgiving for a good harvest.
The Holi festival has further cultural significance. Earlier it was identified as a festival that celebrated agriculture and commemorated good spring harvests and fertile land. Hindus believe it is a time of enjoying spring's abundant colors and saying farewell to winter.
To many Hindus, Holi festivities mark the beginning of the New Year as well as an occasion to reset and renew ruptured relationships, end conflicts and rid themselves of accumulated emotional impurities from the past.
According to one Hindu mythology –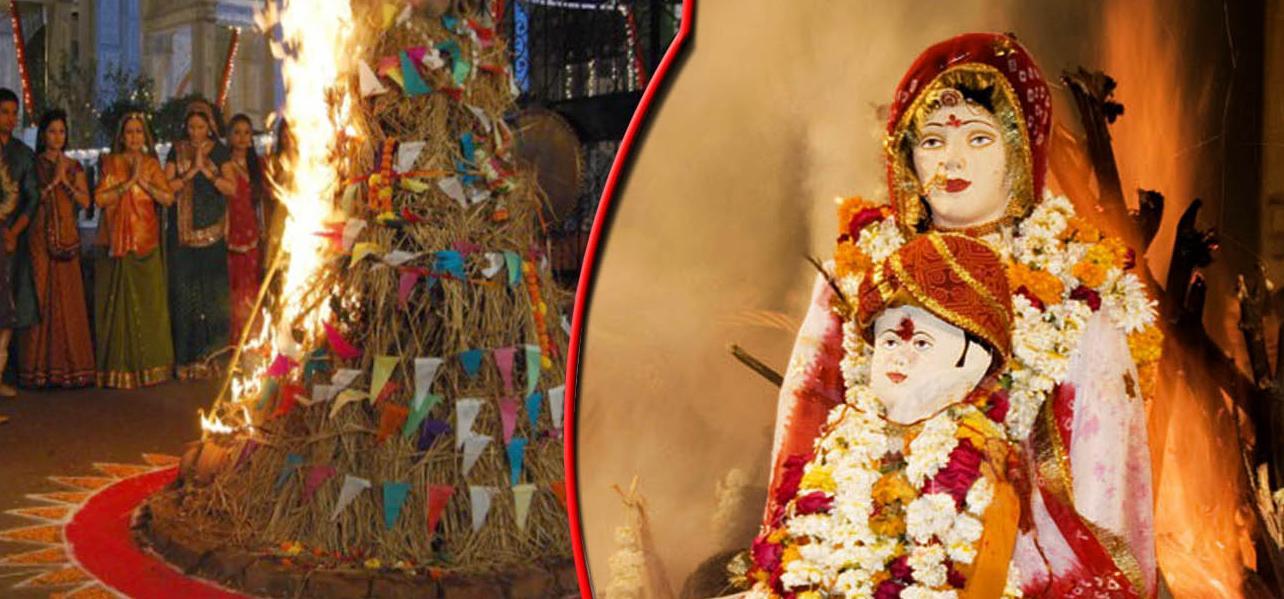 The word "Holi" originates from "Holika", the evil sister of the demon king Hiranyakashipu. The festival itself is believed to have origins from the Prahlada-Puri Temple of Multan in the Punjab region. The original temple of Prahladpuri is said to have been built by Prahlada, Hiranyakashipu's son.
King Hiranyakashipu, according to legend, was the King of Multan and had earned a boon that made him virtually indestructible. He grew arrogant, thought he was God, and demanded that everyone worship only him.
Hiranyakashipu's own son, Prahlada, however, disagreed. He was and remained devoted to Lord Vishnu (a Hindu deity). This infuriated Hiranyakashipu. He subjected Prahlada to cruel punishments, none of which affected the boy or his resolve to do what he thought was right. Finally, Holika – Prahlada's evil aunt – tricked him into sitting on a pyre with her. Holika was wearing a cloak that made her immune to injury from fire, while Prahlada was not. As the fire roared, the cloak flew from Holika and encased Prahlada. Holika burned, but Prahlada survived. Seeing this, Hiranyakashipu, unable to control his anger, smashed a pillar with his mace. There was a tumultuous sound, and Lord Vishnu appeared as Lord Narasimha and killed Hiranyakashipu.
The bonfire is a reminder of the symbolic victory of good over evil, of Prahlada over Hiranyakashipu, and of the fire that burned Holika. The next day when the fire cooled down, people applied ash to their foreheads, a practice still observed by some people. Eventually, people started using colored powder to celebrate Holi.
Another Hindu mythology says –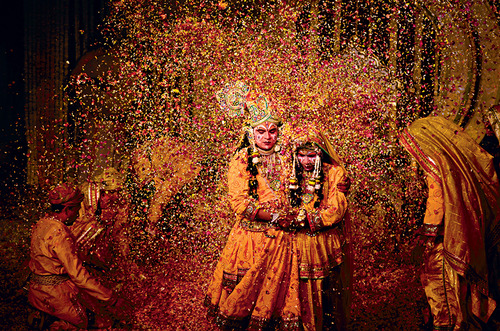 There is a symbolic myth behind Holi celebrations. As a baby, Krishna (a Hindu deity) developed his characteristic dark blue skin color because the she-demon Putana poisoned him with her breast milk. In his youth, Krishna despaired about whether the fair-skinned Radha and other girls would like him because of his skin color. His mother, tired of the desperation, asks him to approach Radha and color her face in any color he wanted. This he does, and Radha and Krishna became a couple.
Ever since the playful coloring of Radha's face has been commemorated as Holi. In the Brij region of India, where the Hindu deity Krishna grew up, this festival is celebrated for 16 days in commemoration of the divine love of Radha for Krishna.
Description –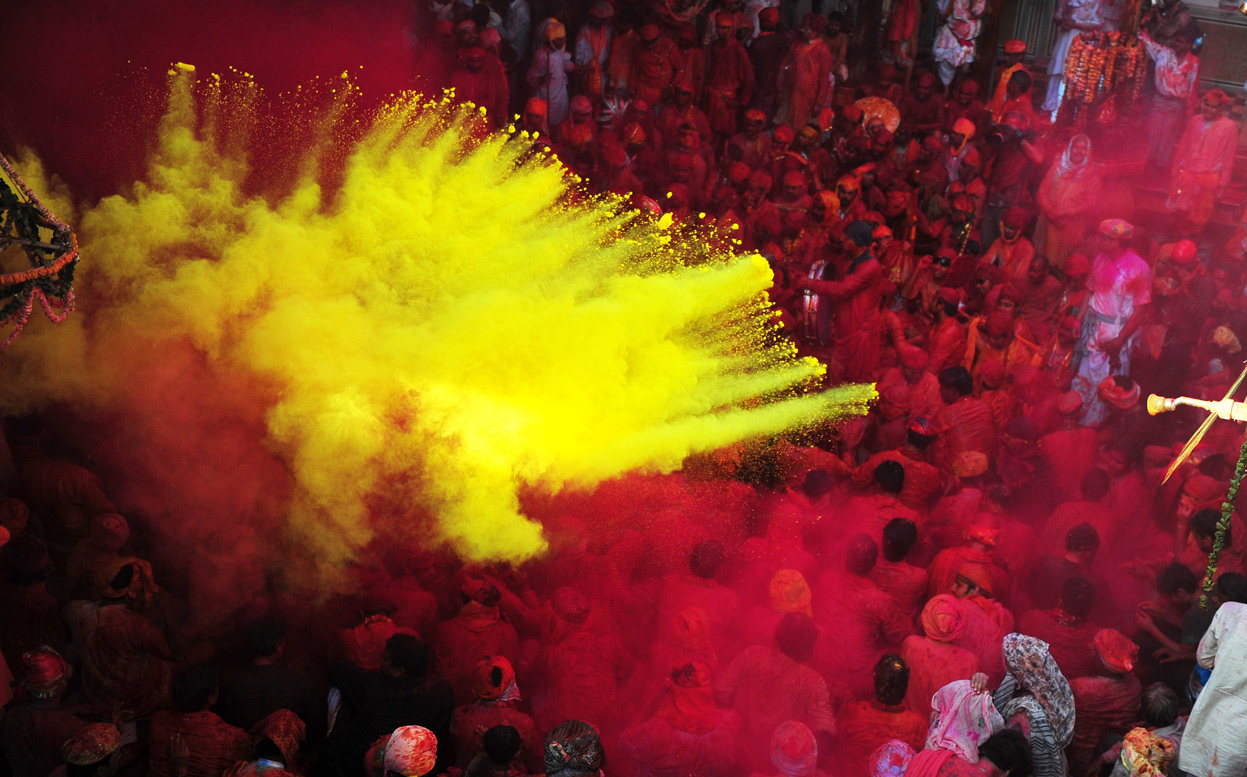 Holi celebrations start on the night before playful Holi with a Holika bonfire where people gather, sing, dance, and party. Days before the festival, people start gathering wood for the bonfire in parks, community centers, near temples, and other open spaces. On top of the pyre is an effigy to signify Holika who tricked Prahalad into the fire. The ritual symbolizes the victory of good over evil.
The next morning the carnival of colors starts, where people play and chase each other with colored powders and colored water, some carry water guns and balloons filled with colored water. Anyone and everyone are fair game, friends or strangers, rich or poor, man or woman, children, and elders.
The fun & frolic chase with colors happens in the open streets, open parks, outside temples, and buildings. Groups carry drums and other musical instruments, go from place to place, sing and dance. People visit family, friends, and foes to paint them in colored powders, laugh and gossip, then share Holi delicacies, food and drinks. Some drinks are intoxicating. For example, Bhang, an intoxicating ingredient made from cannabis leaves, is mixed into drinks and served with regional sweets.
Variations of Holi–
It is primarily observed in India, Nepal, and other regions of the world with significant populations of Hindus or people of Indian origin. Outside India, Holi is observed in Bangladesh, Pakistan, South Africa, Malaysia, The United Kingdom, The United States of America, Mauritius, and Fiji.
In recent years the festival has spread to parts of Europe and North America as a spring celebration of love, frolic, and colors. The Holi rituals and customs vary with local adaptations.
Even the customs and celebrations vary between regions of India. Holi is of particular significance at the locations (Mathura, Vrindavan, Nandgaon, and Barsana in Uttar Pradesh, India.) traditionally associated with Lord Krishna.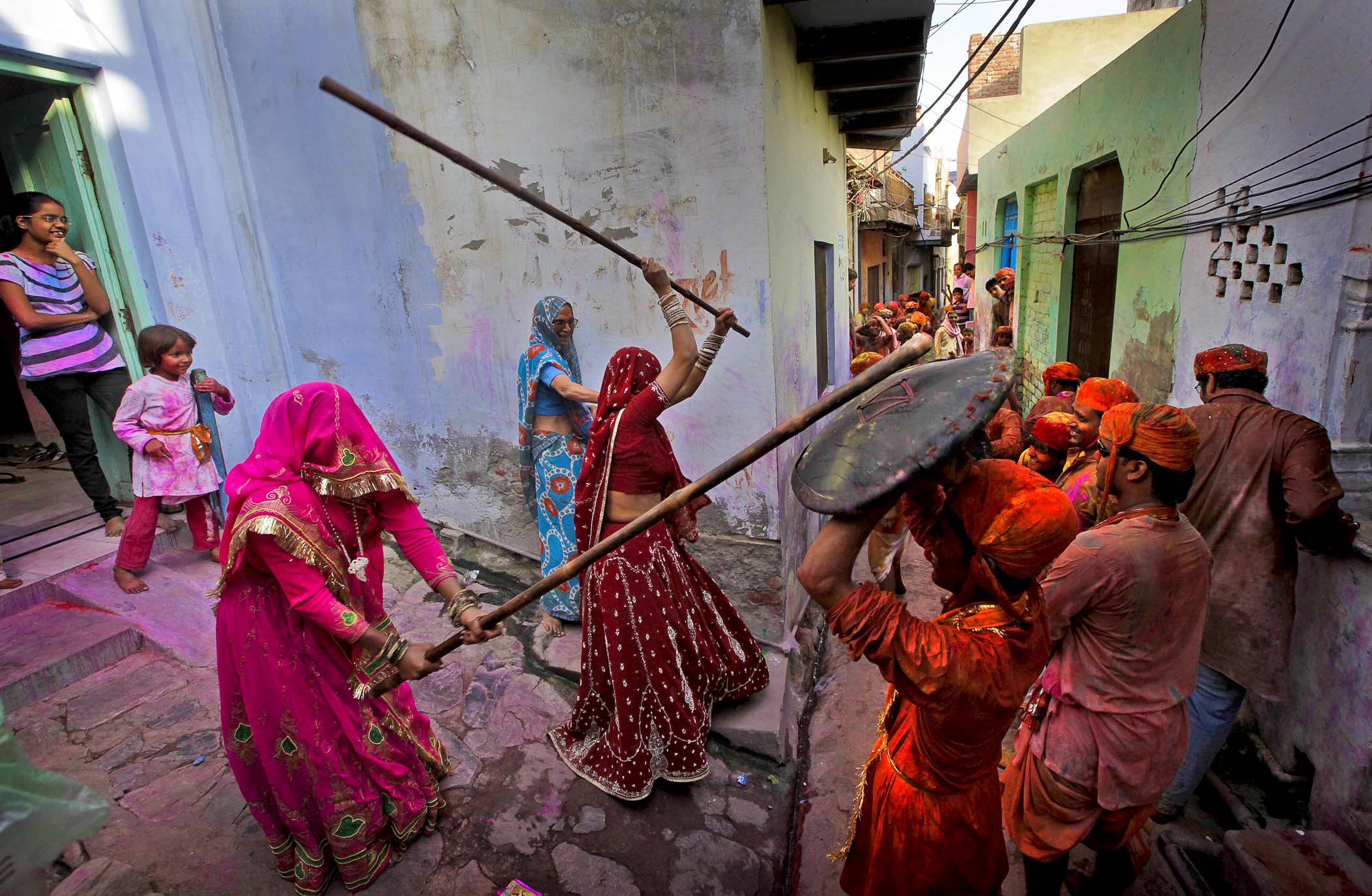 Women from the village of Barsana hit villagers from Nandgaon with wooden sticks during the Lathmar Holi festival. (Manish Swarup/Associated Press)
Uttar Pradesh, people in Barsana (a small town near Mathura) celebrate Lath mar Holi in the Radha Rani temple. Males sing provocative songs in a bid to invite the attention of women. Women then go offensive and use long staves called lathis to beat the men, who protect themselves with shields.
In Mathura (the birthplace of Lord Krishna) this day is celebrated with a special ceremony and the traditional custom of worshipping Lord Krishna; here the festival lasts for sixteen days. Neighboring towns like Hathras, Vrindavan, Aligarh, and Agra, also celebrate in more or less the same way as in Mathura and Barsana.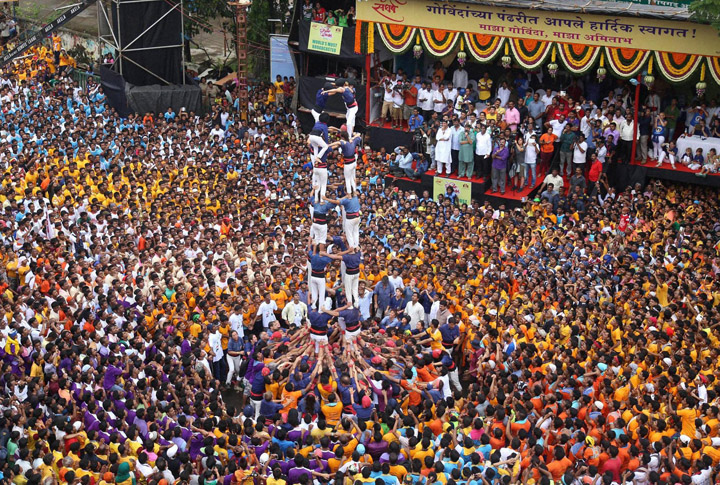 Forming a human pyramid to break the Dahi Handi during the Holi festival
Gujarat and Maharashtra, western India, a pot of buttermilk is hung high over the streets and young boys try to reach it and break it by making human pyramids. The girls try to stop them by throwing colored water on them; depicting the pranks of Krishna and the cowherd boys to steal butter while "gopis" girls try to stop them from stealing butter. The boy who finally manages to break the pot is crowned the Holi King.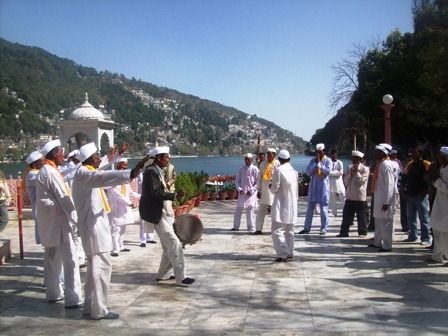 Kumaoni Holi – Uttarakhand
Uttarakhand, Kumaoni Holi in Uttarakhand includes a musical affair. It takes different forms such as the Baithki Holi, the Khari Holi, and the Mahila Holi. People sing songs with a touch of melody, fun, and spiritualism. These songs are essentially based on classical ragas.
The songs are sung in a particular sequence depending on the time of day; for instance, at noon the songs are based on Peelu, Bhimpalasi, and Sarang ragas, while evening songs are based on the ragas such as Kalyan, Shyamkalyan, and Yaman.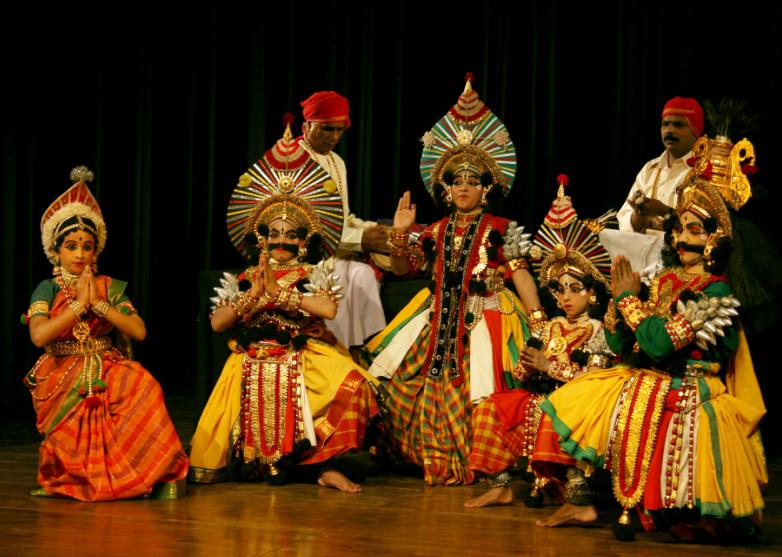 "Bedara Vesha" Sirsi
Karnataka, In Sirsi, Karnataka, Holi is celebrated with a unique folk dance called "Bedara Vesha", which is performed five nights before the actual festival day.
The festival is celebrated every alternate year in the town, which attracts a large number of tourists from different parts of India.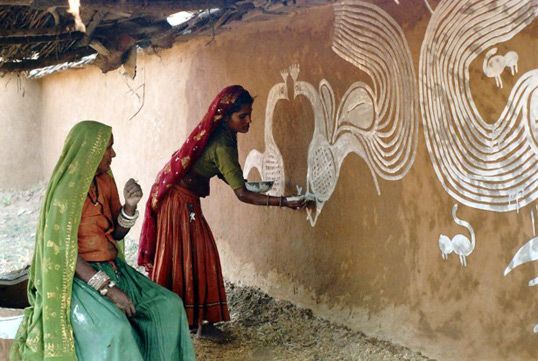 Women in Rajasthan drawing peacocks on the walls.
In north India, Punjab, and Rajasthan the walls and courtyards of rural houses are decorated with drawings and paintings. They are drawn by the peasant women of the states. In courtyards, this art is drawn on cloth. The art includes drawing tree motifs, flowers, ferns, creepers, plants, peacocks, palanquins, and geometric patterns. These arts hype the festive mood of Holi.